The following xkcd has, lately, been everywhere: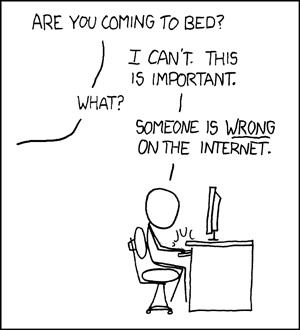 Other installments of the strip have been criticized for ambiguity, but until today, I hadn't seen anyone complain about the construction of this one. Thus it was with some bewilderment, not to say bemusement, that I read Mark Liberman's note saying that someone on the Internet believed the correct phrasing should be the following:
SOMEONE ON THE INTERNET IS WRONG.
Now, both choices of word order are perfectly grammatical, because "on the Internet" can be a locative adverbial phrase or a reduced relative clause. The question is one of timing, emphasis and not least euphony: people are wrong day in and day out, but it's on the Internet that we can't stop ourselves from criticizing them.
This past Saturday, I watched Kenneth Branagh's Hamlet (1996) with two friends (he needed to write an essay about the play, and she'd wanted to see the movie since a few months back). Thus, I'm naturally primed to wonder if, according to the Internet, Marcellus should have lamented, "Something in the state of Denmark is rotten."