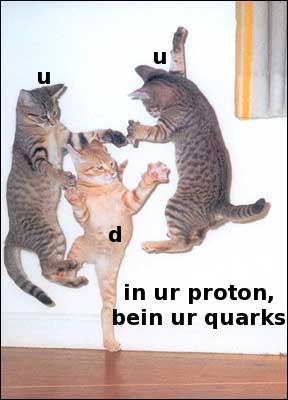 All right, I've resisted long enough. Sean Carroll has now officially asked if Cosmic Variance should host a physics-themed lolcat contest. My answer:
You're going to regret this.

I've already tossed out a few:
"Im in ur manifolds compactifying ur dimensionz."
"M-theory Cat Can Has Background Independence."
"Im in ur comitee denyin ur tenur."
"Im in ur landscape choosin ur parameturs."
"I can has an inflaton."
"Im in ur vacyoom eatin ur Higgs."
"Sagan cat has a bilyunz and bilyunz of starz."
And for Scott Aaronson, "Im in ur oracle solvin ur NP-compl33t problemz."
Please, invent "better" ones — and don't restrict yourself to physics! All science is your playground.
UPDATE (18 May): Welcome, link-clicking Language Log readers! Thanks for the link to the pictures. What can I say, except "Journalist Cat Can Has Snowclone; Im in ur X, V-in' ur Y; BBC Cat Can Has Silly Seesun. . ."
UPDATE (25 May): See also Lolquarks.
UPDATE (2 June): Via Stranger Fruit comes another Schrödinger lolcat:

Originally written 16 May 2007, 19:44 o'clock.